Did your AC stop blowing cool air?  Has your air conditioner stopped working completely?
Need AC Repair?  Call 417-334-1207

Ed's Heating & Cooling is there when you need us.  We're on call for after hours service to offer AC repairs when you need it most.
The last thing you want on a hot summer day is for your air conditioner to stop blowing cool air or stop working completely.  You need air conditioning service right away.  Give us a call.  We'll have a technician at your home or business as soon as possible.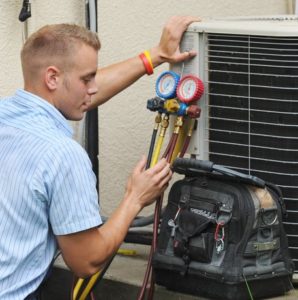 We will investigate the problem and keep you informed of all your options before starting repairs. Our air conditioner technicians are licensed and insured. We service and repair all major brands of HVAC systems including York, Ruud, Trane, Bryant, Carrier, Amana , Rheem, Lennox, and more.  We also service ductless AC systems manufactured by Samsung.  Our technicians are well-trained and qualified in air conditioning repair service, so you can know your job is completed by a professional.
At Ed's Heating & Cooling, we do our best to repair an air condition/HVAC unit, but if a replacement is necessary, we will work with you to complete the job as quickly as possible.
​
Why Has My AC Stopped Working?
There might be a simple solution to your AC issues.
Here are some items to check before you call an air conditioning repair technician.
1. Check to see if a breaker was tripped.  Find your breaker panel and open it.  See if a breaker is flipped to off or if a fuse is blown.  If you find the problem there, reset the breaker by turning it off and then on or replace the fuse.
2. Make sure the thermostat is set to COOL.   Sometimes this settings can accidentally get changed, so it's just a matter of checking to see if it is indeed set to COOL. The temperature setting should be at least 3 degrees below the current room temperature.
3. Check the batteries in the thermostat.  It might be that you need to replace the batteries inside the thermostat.  This is done by opening the thermostat and locating the batteries.
4. Clean or change the air filter. Remove the door on the front of the air-handler cabinet so you can access the filter. Pull out the filter and clean or replace it as necessary.
5. Look for ice. Check your unit to see if ice has formed anywhere on or around the unit.  If so, turn the thermostat to off or the highest temperature and turn the fan setting to on. The ice should melt within an hour or two and you can turn your thermostat back to on or down to see if your air conditioner will start cooling.
6. Check for condensation. Check around your AC unit.  Do you see water? Water can puddle around the unit or flood the area. It's possible the condensation drain line has clogged. To check the drain, locate a plastic drain pipe that comes out of the side of the air handler.  If it's clogged or no water is coming out, clean the line and try turning your AC back on.
At Ed's Heating & Cooling, we offer free estimates for the installation of new equipment.  Whether you are replacing an existing system or building a new home or business, Ed's Heating & Cooling takes pride in quality work.  We don't cut corners!  We have a full-service sheet metal workshop where we fabricate all our custom duct work and specialty pieces.  We make sure our units and duct work are properly sized for each individual home or business.  All our units come with safety pans and most of our equipment comes with an Ultravation filter system for the highest air quality.
Have a small space that needs heat or cool air?  We offer installation of ductless systems as well.